News
14 EASY WAYS TO INCREASE INSTAGRAM FOLLOWERS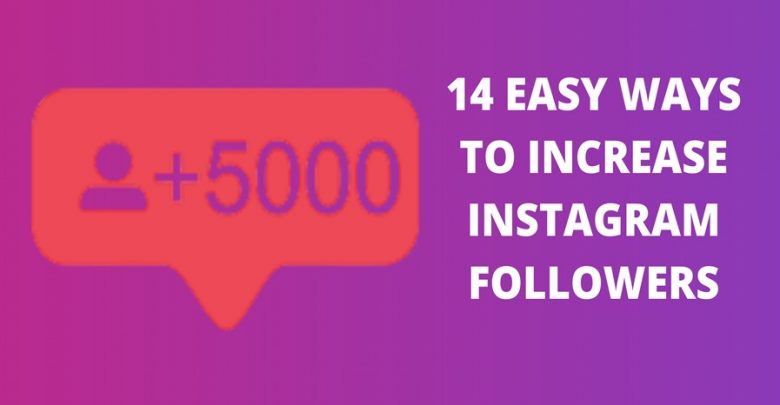 In today's fast-paced world, where everything is available just at a click on our mobiles or Laptops might seem like a Magic.
But how can you gain profit from this world of social media?
How can I up my Instagram game?
Might be among the few questions that come to your mind every day.
Everybody wants thousands and millions of followers on Instagram but we end up thinking that it is a tough row to hoe. Many of us attribute the high number of followers to celebrity status or good looks or rich millennials.
Sigh! False beliefs…
Well people, it's not rocket science.
Although many people prefer to buy Instagram Followers, others are patient enough and want it all-natural. Anyone can increase their Instagram followers if they succeed in implementing these 14 Golden Hacks.
1.    USE SMART HASHTAGS
Hashtags can exponentially increase the number of people that will see your post. You need to find the right combination of hashtags. Be specific and be relevant. The greatest barrier to upping the Instagram game is not having the right hashtags. So right hashtags at the right places will escalate your followers rapidly.
Some good examples of hashtags to be used in Instagram post are: #ootd #throwbackthursday #nofilter #nature #instagood #happy
You should avoid hashtags like #followme #pleasefollow #follow4follow as they don't work anymore and Instagram algorithms see them as spam. 
TRY TO MAINTAIN A THEME
Instagram is not like a WhatsApp group where you can upload anything random.
Maintain a theme for your feed, this looks aesthetically more pleasing and engages more people. The theme could be colour-based, picture-based, retro, vibrant lights, fashion, food, travel, minimal, or anything that goes with your vibes. Find a theme that works for you and stick with it.
UPLOAD GOOD QUALITY PHOTOS OR VIDEOS
Photos are the most engaging content on the internet. Good quality pictures not only make your Instagram feed look stunning but also cater to you real and authentic followers. Not to forget, Editing is the key. It can make an "okay" picture have the "wow" factor. Be consistent with the kind of editing you do on your pictures. This will keep the pictures on the feed in a flow and look cohesive at the same time.
TIP: Make the most of natural light. 
BE FREQUENT AND CONSISTENT
Create a content calendar for your Instagram. Post regularly and keep a proper time gap between your posts. You can make a pattern of uploading 3 consecutive posts related to each other. If you are regular with your content, your followers will look forward to your posts every day.
SHARE VALUABLE CONTENT
Make sure your Instagram bio and posts resonate with your personality and your vibes. Be true to yourself and your audience. Have something unique to offer that keeps your existing followers and other potential followers engaged in your Instagram account.
Its cliché, but being you is the best way to shine on Instagram.
USE WORDS WISELY
Write a short and effective bio that goes with the purpose of your page.
Don't force long captions or emojis unnecessarily. It's always nice to keep the caption relevant to the photo. The perfect caption is when you keep it real.
TIP: Share stories behind the pictures if any, as the readers get to know your life up-close.
        "Your words have POWER, use them wisely."
BE CREATIVE AND ARTISTIC
Instagram is a great place to feed your creative and artistic mind. You will be amazed at how well a simple post that has a creative side and a nice filter on it will do. But not every post you make needs to be official and have a purpose. Sometimes simply a nice photo of a popular building or a Natural sunset can go a long way.
LEVERAGE THE VIDEOS
Videos speak louder than pictures and words as we can evidently see on platforms like YouTube, Tik Tok, etc. Engage your feed in IGTV videos and Reels as they hook the viewers longer than a normal picture.
TIP: Caption the videos as most of the Instagram videos are viewed with the sound off. Make sure to insert a catchy caption below the videos. 
KNOW YOUR TARGET FOLLOWERS WELL
Knowing your target followers is very important as they are the ones who will actively indulge in your content for a longer period of time. If you upload random stuff then high chances are there to attract random users who don't really care about the posts and loose interest quickly. Be aware of real and fake followers.
OVERALL PURPOSE AND CONTENT STRATEGY
Be well-versed with the motive behind your content. WHO, WHEN, WHERE, WHY, WHAT questions must be clearly answered at an individual level before going ahead with a particular content. Don't just upload content and disappear. Be active and have open conversations with your followers in the comment section or through DMs.
INTERACT ACROSS INSTAGRAM (LIKE, COMMENT AND FOLLOW OTHER POSTS/PROFILES)
Ideally, engage with users who will potentially be interested in your profile. This means interacting with potential individuals and brands by liking, following, and commenting on their posts. Search by relevant hashtags and discover other users who are posting similar stuff. Also, engage with those who are already following you by posting interactive stories, asking questions in the captions, taking polls, etc.
ALWAYS TAG LOCATIONS AND RELEVANT USERS
Using geotags provides more contexts and increases the probability that your content will be discovered. This can help expose your post widely. By tagging Instagram users the functionality within the post increases. And that user can engage with the post and share it among their own followers. Also, encourage others to tag you.
MAKE THE MOST OF STORY HIGHLIGHTS
Stories highlights give you an opportunity to showcase the insights of your feed to the people who visit your profile. Pack the highlights with loads of good pictures, information and content that show new users exactly why they should click on FOLLOW.
DON'T BE BORING, ADD FUN ELEMENTS AND MAKE YOUR PROFILE A FEAST FOR EYES.
Instagram is undeniably one of the most important social media platforms available worldwide. Instagram gives a great opportunity to interact with others so take time out to ensure you are making the most of it. Treat your Instagram like a curated collection of your life.
Conclusion
It is very widely considered that Instagram has become a search engine for millennials, letting them search for beautiful photos. And their follower count acts as a seal of approval. Many even buy Instagram likes for that reason. Thus, it's time to start optimizing your Instagram for more valuable content, reach out for more followers and start thinking of it as your small venture.